John in his bright yellow office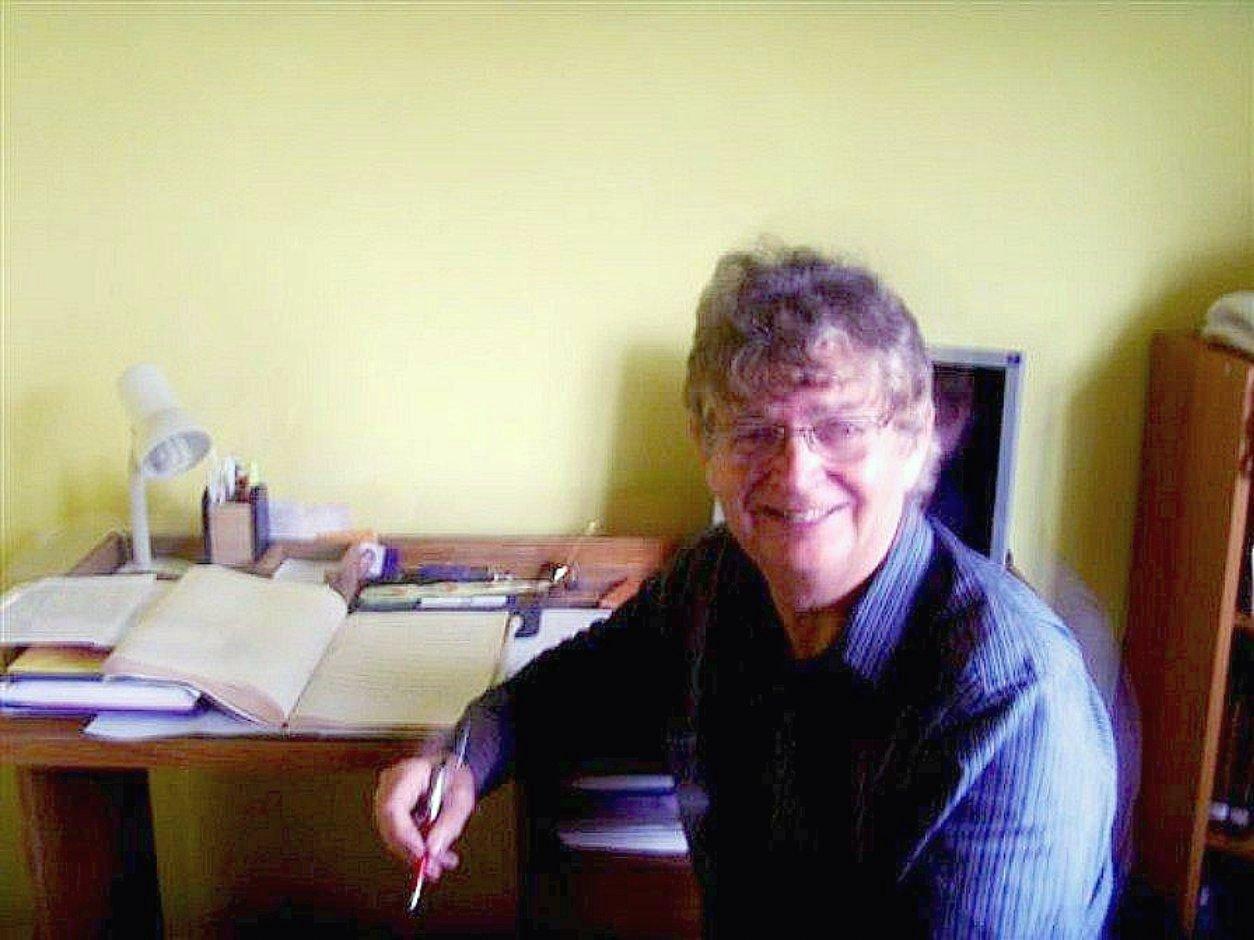 John was born in a small town in Cornwall, called Porthleven. He grew up there and went to school in Penzance, where he attended Humphry Davy Grammar School. He then went to college in London where he took a degree in Education and English. After leaving college he taught for four years in Camborne in Cornwall. He married and moved to Redditch in Worcestershire. He taught there for two years before moving to Oxfordshire, where he now lives.
In Oxfordshire he was a deputy headteacher at Woodstock Primary School and then headteacher in a village called Standlake. He and his wife had two children, a daughter and a son. Sadly John's wife died some years ago, but he now has three grandsons, Thomas, Ben and William, and a granddaughter, Beth. He gave up teaching in 2002 to spend more time writing children's books, Nicola's Ghost was his first published novel and his second, A Spectre in the Stones was published on June 1st 2013. These were followed by The Rainbow Talisman, Kamazu's Big Swng Band and Jax' House
John is working on one of his books at a cottage in Cornwall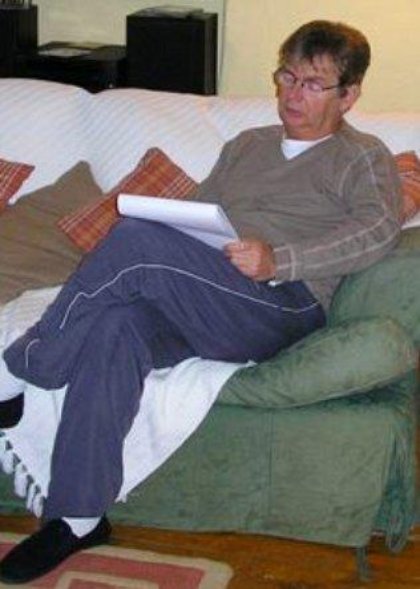 John began writing when he was eight, and tried to write his first novel when he was twelve, but he didn't manage to finish it. (I expect many of you have done that. It needs time and stamina to get a book finished!) However, at college he wrote a book, and submitted part of it for his degree. His writing was awarded a distinction by the examiners and that encouraged him to carry on writing. He wrote about music for his college magazine, and continued to write all the time he was a teacher. He wrote plays and operas for the Children in his school to perform at Christmas.
But teaching was very hard work, and he really didn't have enough time to write. That's why he left teaching and settled to working on several books including Nicola's Ghost. When he was teaching he also read books for publishers, and reviewed books for a magazine called Signal which was read by many English teachers and librarians.
What to look out for in the future
John has recently completed two new
novels. He has written another ghost
story with a difference. Its title is A Spectre in the Stones, and he has
written a fantasy novel with a friend from Ghana, George Acquah Hayford. This novel is called The Rainbow Talisman. Look out for A Spectre in the Stones, it was published in June 2013 by Thames River Press. The Rainbow Talisman has been published too and can be bought on Amazon. Also look out for another Ghost story, Jax' House, which was published by Union Bridge in May of last year. John is also hoping that a great new story called You can't do that Here, Horatius Scapula will be published soon. He has also completed a picture book with another friend, Daniel Drury. This one is called Kamazu's Big Swing Band and it was published by New Generation Publishing in 2014.
More information on the page "What's New"